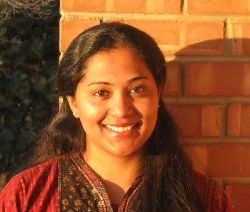 Music has always been my passion in life. I started learning Carnatic music at the age of seven. Whatever little knowledge I have about music, I owe it to my gurus – Kalyani Menon and Suguna Varadachari. During my Law college days in Pune, I came across various genres of music. I enjoy listening to everything from Indian classical music to upbeat Punjabi music. Not so long ago, I was introduced to the audio blogging world by my friend, Joseph Thomas (Jo). Blogging has not only given me an opportunity to pursue my passion, but also a chance to make some wonderful friends.

I am really excited to be a member of the Eenam group. I enjoyed rendering the song "Madapotti" with Bahuvreehi.Thanks a lot Bahuvreehi for guiding me in every step to capture the pathos in the song. My first attempt turned out to be a lil' joyous, but Bahu patiently helped me capture each word with a lot of emotion.
Each song in this album has a different theme which adds variety and breaks the monotony seen in many recently released albums. Different composers, lyricicts and vocalists for every song helps to create this. Eenam is a fun-loving group, and I enjoy the colloquial mallu mails which are circulated among the group. I await these mails which contain a mixture of our naadan humor and serious blog updates. The blog is still in the developing stage, but easy to maneuver and creates a nostalgic feel to mallus far from home (keralam). Thanks again Eenam creators for inviting me to be a part of this venture.
I am a mallu, based in Chennai, but currently live in Wisconsin, USA .
My blog :- http://rashminair.blogspot.com/